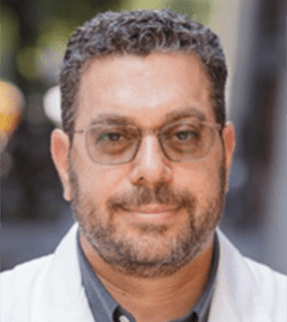 About Dr. Zwiebel
Neil S. Zwiebel, DPM, is a leading provider of essential podiatry services for patients throughout Midtown Manhattan and the Greater New York City area. At Park East Podiatry, Dr. Zwiebel offers expert medical care for warts, toenail fungus with innovative laser therapy, ankle sprains, heel pain, ingrown toenails, and also practices Sports Medicine.
Dr. Zwiebel places your speedy recovery at the highest priority, and only uses the latest techniques in order to ensure a speedy recovery from your ailment. Park East Podiatry has the latest technology such as Digital X-Rays, Clearanail® treatment for Nail Fungus, and cutting edge custom 3-D digital orthotics.
Dr. Zwiebel believes that a precise and accurate diagnosis of your foot, ankle, or toe pain begins by dedicating time to you, taking a proper history of your problem, and conducting a thorough and comprehensive examination. An exceptionally caring and attentive podiatrist, Dr. Zwiebel has a special passion for bringing cutting-edge, evidence-based therapies to all patients at Park East Podiatry in New York, New York. He always takes great care to ensure that you receive the highest standard of treatment. His friendly demeanor and comprehensive expertise have resulted in over 400 5-Star Reviews across all major online platforms.
After receiving his Bachelor of Science degree in Human Development from Cornell University in Ithaca, New York, Dr. Zweibel spent two years in molecular biology cancer research. He then went on to earn his doctorate in podiatric medicine and surgery at the New York College of Podiatric Medicine.
In 2002, Dr. Zwiebel completed a two-year podiatric surgical residency program at Meadowlands Hospital Medical Center in Secaucus, New Jersey. He concentrated on comprehensive elective foot and ankle surgery, foot and ankle reconstructive surgery, diabetic-limb salvage, and trauma surgery of the foot and ankle.
His thirst for knowledge led him to work closely with other departments at Meadowlands, including general medicine, rehabilitation medicine, radiology, emergency medicine, orthopedics, and vascular surgery. Dr. Zwiebel's extensive training included learning to read MRIs and CAT scans — skills that he brings to Park East Podiatry as well.
In addition to healing common sources of foot pain, such as ingrown toenails, plantar fasciitis, and Achilles tendonitis, Dr. Zwiebel offers medical pedicures for fungal toenail infections and calluses. Dr. Zwiebel stays abreast of the latest technology and treatment options. He recently incorporated groundbreaking therapies such as EPAT® (extracorporeal pulse activation therapy) for treating plantar fasciitis and Achilles tendonitis and the Cool Breeze Laser® for treating toenail fungus.
Dr. Zwiebel, one of the best podiatrists in Manhattan, is the Foot and Ankle Specialist at Park East podiatry, located in Midtown Manhattan, New York City, New York. If you need help with your foot and ankle pain, call the friendly team at Park East Podiatry or book an appointment online now.
" I was referred to Dr. Zwiebel by my internist as I had stepped on broken glass in my home. I found him to be lovely, quick, and diligent."
JILL M.
"Not only did he cure me, but he was highly professional, sensitive, and easy to schedule. Highest recommendation!"
ANDREW L.
"Dr. Zwiebel did a fantastic job of fixing my foot that I hurt while away on vacation. He even agreed to see me on his day off – he's a superb doctor."
DAVID T.
"Dr. Zwiebel is an excellent doctor. He is very knowledgeable and he takes the time to diagnosis your problem and is thorough in his treatment. I highly recommend him. "
STEVEN D.